FAQ
On this page you will find technical information about LED luminaires and questions and answers about our luminaires and installation.
Installation
Is it possible to install luminaires and rails yourself?
Both 1-phase and 3-phase rails can be installed by yourself. However, we recommend that you use our installation service that guarantees the best results.
Do you offer an installation service?
Yes, we provide an installation service. By ordering our installation service, you guarantee the product warranty and avoid the risks that may arise from incorrect installation of the product.
We offer our installation service in all Baltic countries and Finland.
What is included in the installation price?
The final cost of installation depends on many things. The price of the installation starts at 150€ + VAT 20%. Pricing includes travel per kilometer outside of Tallinn. The cost of the installation may also be affected by the time spent on the installation, the additional work to be done and the materials required
Rail-tracks
What kind of rails do you offer?
In our selection you will find 1-phase and 3-phase rails.
What kind of rail fit my space?
When choosing rails, it is worth first considering the height of the ceiling and the purpose of the space. It also depends on what kind of features you want from the luminaires. If the ceiling of the room is less than 3 meters, then most often 1-phase rails are sufficient, with ceiling heights of more than 3 meters we recommend using 3-phase rails.
How many rails do I need?
The number of rails depends on power point placement, the size of the space and where you want to direct the luminaires. Using rails gives you the freedom to place lights easily where you want them. We will offer you a suitable number of rails according to your design, floor plans and wishes.
Is it possible to cut the rails to the required length?
Yes, it is possible to cut the rails.
Can rails be purchased individually?
Yes, it is possible to buy rails separately from other products.
1-phase rails luminaires
What are 1-phase track lights suitable for?
1-phase track lights are ideal lights for using at home and small interiors. They can add value and interesting details to your interior design. Track lights are the perfect way to change the light design in your room, without spending money on expensive electrical repairs. They are also ideal in spaces where the design and furniture is changed often.
How many lamps do I need to illuminate the kitchen, living room and other interiors?
We determine the number of luminaires with each customer separately on a project basis. Each person's home and needs are unique and individual.
Do you also have lamps with a replaceable lampbulb?
Yes, you will find in our range luminaires with GU10 lampbulbs.
3-phase rails luminaires
What are 3-phase track lights like?
3-phase track luminaires are luminaires that are intentionally produced to illuminate large spaces like shopping malls, stores, galleries etc. 3-phase luminaires can be led on one rail to 3 different groups.
What kind of spaces are suitable for 3-phase rails and luminaires?
3-phase rails and luminaires are suitable for spaces where the ceiling height is over 3m and more powerful luminaires are needed for example in shops, galleries, studios, etc.
How much lighting do I need to light the space of my store or business?
The number of luminaires depends on the size of your company's premises and the operation of your company. Designed lighting in the store will help promote your sales results and we will be happy to help you achieve the best result for your business needs.
Industrial lights
What are industrial luminaires?
Industrial luminaires have a higher lumen count, which is needed to illuminate large spaces where the ceiling height is over 5m.
Where should you install industrial luminaires?
Production luminaires are suitable for garages, factories, storage rooms, etc.
Ordering / Price Offer
How can I make an order?
You can order our products from us by e-mail and we will be happy to help you get the best lighting solution for your space!
How can I pay for my products?
Payment by invoice only, on-site payment is not yet possible.
How do I know what you have in stock?
Our best-selling products are always immediately in stock however we advise you to consult us before ordering.
Can I order rails and luminaires separately?
Yes, all products can be ordered separately.
Can I order rails and lights together?
Yes, you can order all the products needed for the project together. We will also help you choose the right rails and luminaires to make sure everything fits together.
Project-based price
What is the cost of the project?
The price of the products depends on the size of the project. For larger projects there will be discounted
What are the terms of the project?
For the best outcome of the project, we recommend that you send us floor plans of your facilities (e.g. DWG folder) and tell us the purpose of the space so that we can give the best recommendations.
Delivery forms and delivery time
What are the forms of delivery?
We offer our customers the opportunity to come pick up the products or we can send the products to you by parcel delivery.
How long is the delivery time?
Delivery time for products in stock is typically 2-3 days. Larger and special orders may take longer.
Warranty
How long is the product warranty?
We offer a 2, 3, and 5 year warranty on our products. You can find more detailed information about the length of the warranty in the information of each product.
Returns / Maintenance / Reclamation
How can luminaires be returned?
If you have a problem with our products, please feel free to contact us and we will find a solution to your problem.
What is the after sale service like?
We find out the right kind of service together with the customer, depending on the space and the products that have been used in the space.
Does the warranty include the cost of maintenance?
Yes.
Can I change the lights within the warranty period?
A broken or otherwise non-functioning product can be repaired or replaced under warranty without charge, depending on the product defect.
If I am still not happy with the product, will I get my money back for the returned products?
If you want to return the products and collect the money back, you have the right to do so within 14 days under EU law.
Consulting
Can I request a consulting service if I am not sure what kind of products I want / need?
Yes, we consult you for free!
How is the consultation done?
We can help you if you email us, call us or you can come visit our showroom where we can present our products in more detail.
Is there a possibility to see the products before purchasing?
Yes, you can come to visit our office / showroom, Vesse 4, Tallinn.
Can I get test the products to make sure the luminaires are suitable?
Yes, if you are not sure about your choice, you can try what kind of luminaires would suit your space.
Special orders
What special solutions we offer?
We have also carried out many special projects and have extensive knowledge of various luminaires. If you do not find the lighting you like in our selection, you can still feel free to contact us and we will surely find a solution for you!
Technical information
Terminology
LED: Light Emitting Diode light emitting diode is a pn junction diode that converts electrical energy into visible light as well as optical radiation in the infrared or ultraviolet part of the spectrum.
COB LED module: Chips on Board is a common module consisting of one or more LED chips located on a board.
Lm / W: lumen per watt. Lumen value emitted from the light source or luminaire divided by the total energy consumption. Also known as efficacy.
CCT: Correlated Color Temperature is the closest color temperature. Whether the light is perceived as warm, neutral or cool white.
CRI: Color Rendering is the color rendering index. A measure of how well a light source transmits colors. Also known as Ra.
Luminous flux: the amount of light coming from a light source or luminaire.
What is LED
LED: Light-Emitting Diode, a light-emitting diode, is an electronic component that produces light in a semiconductor material. The LED converts electrical energy into visible light as well as optical radiation in the infrared or ultraviolet part of the spectrum. The forward voltage of an LED depends on its color – for longer wavelength LEDs (red) it is of the order of 2 V, for shorter wavelength (blue) it is ~ 3 V.
Earlier LEDs emitted low-intensity red light, but today's LEDs are already available in different wavelengths, emitting infrared light to ultraviolet light, with a very high degree of brightness.
The invention and development of high-power white LEDs led to the use of light emitting diodes in the field of lighting, becoming a serious competitor to incandescent and fluorescent lamps.
Mis on COB?
COB LED Modules – COB: (Chips on Board) – is a common module consisting of one or more LED chips (usually nine or more) located on a ceramic or aluminum plate.
According to the technology, the shell-free blue diode chips are mounted directly on the chip and covered with a common phosphor layer. In this case, the heat dissipation from the transfer is significantly improved, which prolongs the life of the device.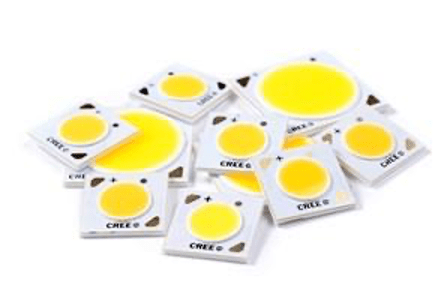 What is CCT?
Light Temperatures – CCT: Correlated Color Temperature
Color temperature indicates whether the light source is perceived as warm, neutral, or cool white. LEDs can be manufactured at any color temperature determined by the predominant wavelengths. The color temperature of an LED is characterized by blue and yellow peaks in the spectrum.
CCT is measured in Kelvin. LED luminaires are most often used at light temperatures of 2500-6000K. When choosing the light temperature, you should keep an eye on what kind of atmosphere you want to achieve. 3000-4000K is best suited for displaying products in retail spaces, 2700-3000K in smaller interiors such as homes.
2000 Kelvin yellow warm candlelight
2700 Kelvin natural evening sunlight
3000 Kelvin morning sunlight
3500 Kelvin noon sunlight
4000 Kelvin semi-cloudy cold light
4500 Kelvin cloudy noon blue light
5000 Kelvin strong daylight with a bluish overtone
6000 Kelvin Powerful daylight with a strong bluish overtone

What is CRI?
CRI: color rendering is a color rendering index that is an indicator of light quality.
The color rendering of the luminaire is numerically expressed by a color rendering index with a maximum value of 100 corresponding to the natural color rendering, such as in sunlight. If vision work requires correct color recognition, the color rendering index must be at least 80-90.
A higher CRI number ensures less color distortion. If there is no part of the spectrum in the light, the colors corresponding to that part of the object appear gray or dim.